Company Profile
Hon-Kwang Electric Co., Ltd. was founded in 1981, is a maker of power supplies & specialized in the design and manufacture for the domestic and foreign market. Hon-Kwang has developed various power supplies using the best of available technology, our main products includ ing AC/AC adaptor, AC/DC adaptor, Power transformer, Switching power supply, ,Charger and Line matching transformer . The goal of the company is to provide high quality products, best service, technical support and competitive price with quality assurance.
In the meantime, we have gotten our products with many safety approvals, such as UL, CUL, TUV/GS/CE/CB, PSE MARK, CCC, TUV/BS, RCM Mark, PSB, KC Mark, BSMI, etc.....,also available for other international safety marks such like,TÜV/BR,NOM,EAC, BIS, SASO,. Our products also comply with the RoHS requirement and the Energy Star/CEC/DOE/Erp/Nr-Can & MEPS.
Hon-Kwang is a factory-direct company headquartered in Kaohsiung of Taiwan, the biggest industry city in Taiwan. Our manufacturing locations are both in Taiwan and China. With still increasing business demands, we built the second factory in Shenzhen of China in 1995. There are over 2,500 employees. We built the third factory in Shanghai of China 1999. Until now, in order to add the production capacity satisfying customer's demand.,we set up another new factory in Songgang of Shenzhen 2018.
The monthly production capacity for the factory is around 5,000,000 pcs. In the rapid changing of world economic, we always believe "fast delivery with quality product" is the best way to serve our customer.
With years experience to design and manufacture power supplies, we build an excellent reputation for our company and our products. We supply power supplies to many famous companies worldwide directly or indirectly. Including the familiar names: IBM; Compaq; Dell; Philip; Panasonic, Sony, Quest; America West communication; Zoom; Radio Shack; GE; Samsung; Yamaha; Kawai; NEC, NMB; Hitachi; Olivetti;
To become an international enterprise and reduce total cost for our power supplies, we establish the join venture for power cord and metal parts factory in China to provide the materials by ourselves. We also sell those products to other customers around the world. By this way, we could control the cost and keep the quality for our customer.
Hon-Kwang's company philosophy is to grow together with our customers. So we always try best to comply with all requirements from customer, including cost, quick and on time delivery, quality product, technical support and other services. We believe the success of our customer will bring "Hon-Kwang" to the road of success.
History and events
2019

Hon-Kwang Electric (Philippines),Inc was founded in Philippines.

2018

Move to Songgang Factory in Shenzhen for admistration and manufacturing.

2015

Be awarded the Shenzhen customs coordinator company

2013

Hon-Kwang Electric (Shenzhen) qualified as National Hi-Tech Enterprise

2012

Hon-Kwang Electric (Shenzhen) founded SMT dept.

2010

Hon-Kwang Electric (Taojiang) was established.

2008

Hon-Kwang Electric (Shenzhen) registered trademarks/LED.

2005

Hon-Kwang Electric (Shenzhen) got ISO14001.

2001

Hon-Kwang Electric (Shenzhen) got ISO9001.

2000

Hon-Kwang Electric (Shenzhen) starts SPS.

1999

Hon-Kwang Electric (Kunshan) was founded & got ISO9002 & ISO14000.

1993

Hon-Kwang Electric (Shenzhen): produce transformer and adaptor

1981

Hon-Kwang Electric Co., Ltd was founded in Kaohsiung, Taiwan.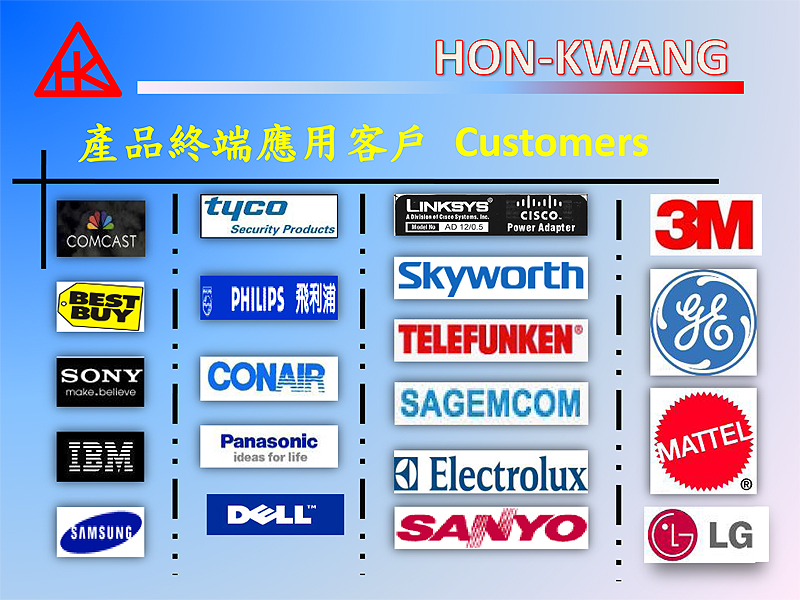 Headquarter

Kunshan Factory

Songgang Factory

Philippines Factory
Introduction
Head Office & Factory
Shenzhen Factory
Kunshan Factory
Philippine Factory
Employee (Persons)
20
500
500
500
Capacity (Per Month)
500K
3000-5000K
2000-3000K
2000-3000K
Total Registered Capital
USD 30,000,000
Main Products
Power transformer, AC/AC. AC/DC adaptor, line matching transformer, charger, ballast, audio frequency transformer, switching & line power supply.LED Power Supply
Safety standard approvals
UL, CUL, PSE MARK, TUV/GS/CE/CB TÜV BS, RCM Mark, CCC, PSB, S-mark, KC Mark, BSMI, ST,
other countries : NOM,TÜV/BR, EAC, etc.
Efficiency Approval : CEC/DOE/Nr-Can/ Erp/MEPS/CONUEE....
Quality Assurance Certification ISO 9001 & 14000